Former Massachusetts Governor Mitt Romney won the Iowa Republican Party Straw Poll this past weekend. Additionally, reports have just come out that he's worth an estimated $247 million, making all of the fuss about Democratic candidate John Edwards' riches look like much ado about nothing. John Edwards reports assets of about $30 million and has drawn criticism for his mansion and expensive haircuts. Should Romney become the Republican nominee for president or even the next president, I think that we need to examine his record closely and determine the implications for the Latino electorate.
First off, how many of you know that Mitt Romney's dad was born in Mexico? That's right, George W. Romney, father of Mitt, was born in Chihuahua, Mexico. George Romney's grandparents were polygamous Mormons who left the United States when the federal government began to crack down on the practice. Today there are still Mormons in this part of Mexico, including some distant relatives of Mitt Romney. If you look at this article and scroll down, you will see a picture of some of the Romneys who currently live in Colonia Juarez, Chihuahua, a Mormon enclave. From what I understand, polygamy was illegal in Mexico when the Mormons first settled there, and as far as I can tell, it is still not permitted. Apparently, this particular group of Mormons in Colonia Juarez does not practice polygamy today, but there are fundamentalist sects, broken off from the main LDS church, engaging in the controversial practice in Mexico, parts of Canada and here in the US. Today, Mitt Romney ironically, takes a very anti-immigration stance. His ancestors immigrated to Mexico to have multiple wives, while immigrants from Mexico come to the United States primarily for economic reasons today. While I believe that we need some sort of comprehensive immigration reform, I was hoping that Mr. Romney would be a little more sympathetic to our neighbors south of the border given his connection to Mexico. Last year, Romney spoke positively about providing a path toward citizenship for illegal immigrants, but it sounds like he has heightened the anti-immigration rhetoric, saying that illegal immigrants should get in line to come to the US. Uh, can anyone tell me where this line is? Is it outside of the local Home Depot store where American builders and contractors wait to pick up undocumented day laborers?
Mitt Romney also has a terrible record on diversity. While I can't wait for George Bush's administration to end, I have to give him a little credit for making an effort to create a somewhat diverse cabinet. GWB's people might not be the most competent, but that doesn't mean that there aren't Latinos, blacks, Asians, women, and gays who have the qualifications and who could do a wonderful job. Earl Ofari Hutchinson writes that Romney had an atrocious record as governor of Massachusetts for appointing minorities and women to judicial posts. It wasn't until his last year in office that he made more appointments of women and minorities, which seems to be a calculated move as he was gearing up for the big run.
And even though he doesn't like to talk about it, there's the whole Mormon issue, which I started to address in mentioning Romney's own familial immigration story. I respect anyone's right to practice a faith, but this is a rather peculiar religion. Up until 1978, blacks were not allowed to be in the Mormon priesthood. Additionally, Mormons believe that the Native Americans came from the Holy Land and were marked with darker skin to identify their wickedness. If you read the Wikipedia definition of a Lamanite, you will gain some insight. So among the Mormon faithful, those of us with Native American lineage bear the mark of the curse of God. Oddly enough, Mormons have a hard time trying to refute the piles of data suggesting that Native Americans came here from Asia. Imagine telling the Palestinians and Jews in the Holy Land that we have a stake there too?!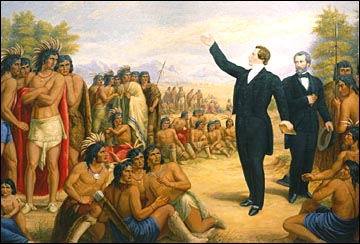 Now, some might say that we should ignore this whole Mormon thing, but I don't think that we should dismiss it so easily. Sure, people of color have not always been treated well by modern religious sects, and yes, 47 years ago, JFK had to explain that he would govern separate from the Catholic church. But note that JFK did not go on a Catholic mission, aiming to convert people to his faith. Mitt Romney skipped out on the Vietnam War to go proselytize for a faith that had and still has exclusionary values. If you look at the biographies of Romney's sons, they, like their father, all attended the Mormon college, BYU. How many Catholics, Jews, or Protestants send all of their children to schools within their faith? As Catholic as the Kennedys are, you don't see them all rushing off to Notre Dame or Boston College. I find the college choice of the Romney boys, given their vast resources to study in so many places, a little strange, don't you? But wait, it gets even better with these kids. Romney has stated that his sons are serving our country by working on his campaign when asked why none of them are serving in Iraq. I'm sure that many of the soldiers in Iraq would rather sit on a campaign bus and tour the country instead of sweating in the scorching hot desert trying to avoid improvised explosives. By the way, Romney supports the war in Iraq.
The other issue I have with Romney has to do with his continual flip flopping on the issues. He's done this with abortion. He once was pro-choice at least in public, but now he's pro-life. As I pointed out, he did have a more progressive point of view regarding immigration, but that doesn't seem to be the case anymore. He is also heavily invested in the gambling industry, specifically the MGM Mirage. Just the other day, I heard Romney say something about cleaning up moral pollution on the TV and internet. If he wants to jump on the morality band wagon, wouldn't it be wise to put his money where his mouth is, especially in regards to gambling, and just avoid those holdings altogether? Also, as I understand it, Mormons are not supposed to gamble. For someone who has been a missionary and leader in his church, how does he personally reconcile the gambling investments with his faith's teachings? Romney also owns stock in a company that conducts business in the Sudan and Iran, but he states that he was prevented from directing the use of these funds as this money was secured in a blind trust. How convenient, huh? Mr. Romney just removes himself from his wealth with the good old blind trust excuse. He is very much a "do as I say, not as I do" type of person. I don't think that we can endure another four years of these kinds of "family values."
Finally, Romney also skipped out on attending the National Association of Latino Elected Officials and National Council of La Raza conferences as well. I don't even think that he sent one of his sons to do outreach at two of our major conferences. I'm going to end this post with a picture of the Romneys. Notice there aren't any "little brown ones." Of course, the Romneys don't need to include us in their private lives should they chose not to, but I have a feeling that if this guy gets in office that his administration will resemble this picture in a way that won't be good for us.