Well, it looks like Hillary Clinton and Barack Obama have roughly split the delegates on Super Tuesday, which means that both candidates live to fight another round. However, I was struck by how many states Obama won. Sure, Clinton took California, Arizona, New Jersey, Massachusetts, New York, Tennessee, Arkansas, and Oklahoma. But Barack Obama won Missouri, Alaska, Utah, Idaho, Colorado, Minnesota, Connecticut, Kansas, North Dakota, Alabama, Delaware, Illinois, and Georgia. New Mexico's primary is still too close to call at this point, but it is somewhere within 1000 votes difference between the two candidates.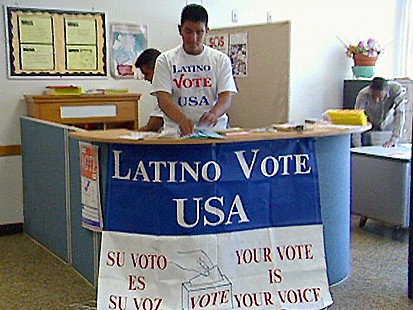 As expected, Hillary Clinton performed well with the Latino electorate, but I don't think that we have proven to be the "firewall." Obama drew many Latino voters in his home state of Illinois and in Connecticut, and he took more than 40 percent of Latino votes in Arizona. He's especially gaining momentum with younger Latinos, which I tend to see in my own sphere of influence. I think that younger Latinos can more easily relate to Barack Obama than we can Hillary Clinton. He is closer in age to most Latinos, has an immigrant father, and has two young children, aside from great oratory skills that appeal more to younger voters. It seems that Hillary Clinton has tried to make herself appealing to younger Latinos by sending America Ferrara (aka Ugly Betty) and Chelsea Clinton out to various youth events in the Southwest. Yeah, these two rich girls really resonate with us. How many 20-something Latinos do you know work for hedge funds in Manhattan or star in their own sitcoms?
For more specifics on the Latino vote and additional analysis, I like what Roberto Lovato is saying at the Huffington Post. We are on the same wavelength, and I give him credit for astutely pointing out that Latinos are not a monolithic voting block that can be taken for granted. There is a handful of us in Latino blogsphere who have been saying this for a while now, most notably Alisa Valdes-Rodriguez.
On the Republican side, it looks like John McCain is more than halfway to the finish for his party's nomination. Ironically, John McCain has a more reasonable stance on immigration relative to the other Republican candidates. So much for the anti-immigration issue folks having a lot of traction in this election cycle.
I also think that it is worth noting that Hillary Clinton had to pump $5 million of her own dollars into her campaign last month, and today a report came out that her top staffers have agreed to work without pay for the month of February, including her Latina campaign manager Patti Solis Doyle. You don't always get the same kind of work product out of non-paid workers as you do from those receiving pay checks. I also find irony in the Latina working this pro bono, but I'm sure that she has lined her pockets nicely over the course of the campaign. She certainly won't have to file for unemployment benefits like thousands of other Americans are doing right now. I don't think that this is a good sign for Clinton and company, but it certainly isn't over.